Dental crowns explained
Dental crowns are one of the most predictable long term treatment options for repairing severely damaged or decayed teeth. Dental crowns are generally recommended when a tooth is damaged or worn so much that a filling or other type of restoration isn't enough to repair it. They are suitable for both front and back teeth. 
What are dental crowns?
Dental crowns are custom-made caps placed on damaged teeth to restore their function and appearance. One of the main benefits of dental crowns is that they look and feel like natural teeth. They are made to match the natural colour and shape of your other teeth.
What are dental crowns made from? 
Your dentist may recommend a dental crown for several reasons, including: 
To improve the appearance of teeth if they are stained, chipped or misshapen.

To restore damaged or decayed teeth and build strength and improve function.

Strengthen cracked or root-filled teeth. 

To replace missing teeth as part of a dental implant or bridge. 
Types of dental crowns
There are a variety of materials that are used for dental crowns. The type of dental crown your dentist recommends will depend on the location of the damaged tooth, the level of damage or decay and your personal preferences. 
Some types of dental crowns we provide at our West End dental clinic include: 
Porcelain crowns – Porcelain dental crowns are made from porcelain material. They look and feel like natural teeth. Porcelain crowns are extremely durable and can last for many years with proper care. 
Ceramic crowns – These are like porcelain crowns and are made from a ceramic, tooth-coloured material to look like natural teeth. 
Metal crowns – Metal crowns are another option. They can be made from gold and are extremely strong. They aren't as popular as their metallic appearance makes them less appealing.
Zirconia crowns – Strong and resistant to chips and cracks, zirconia is a type of ceramic material. They are also highly durable and last for many years.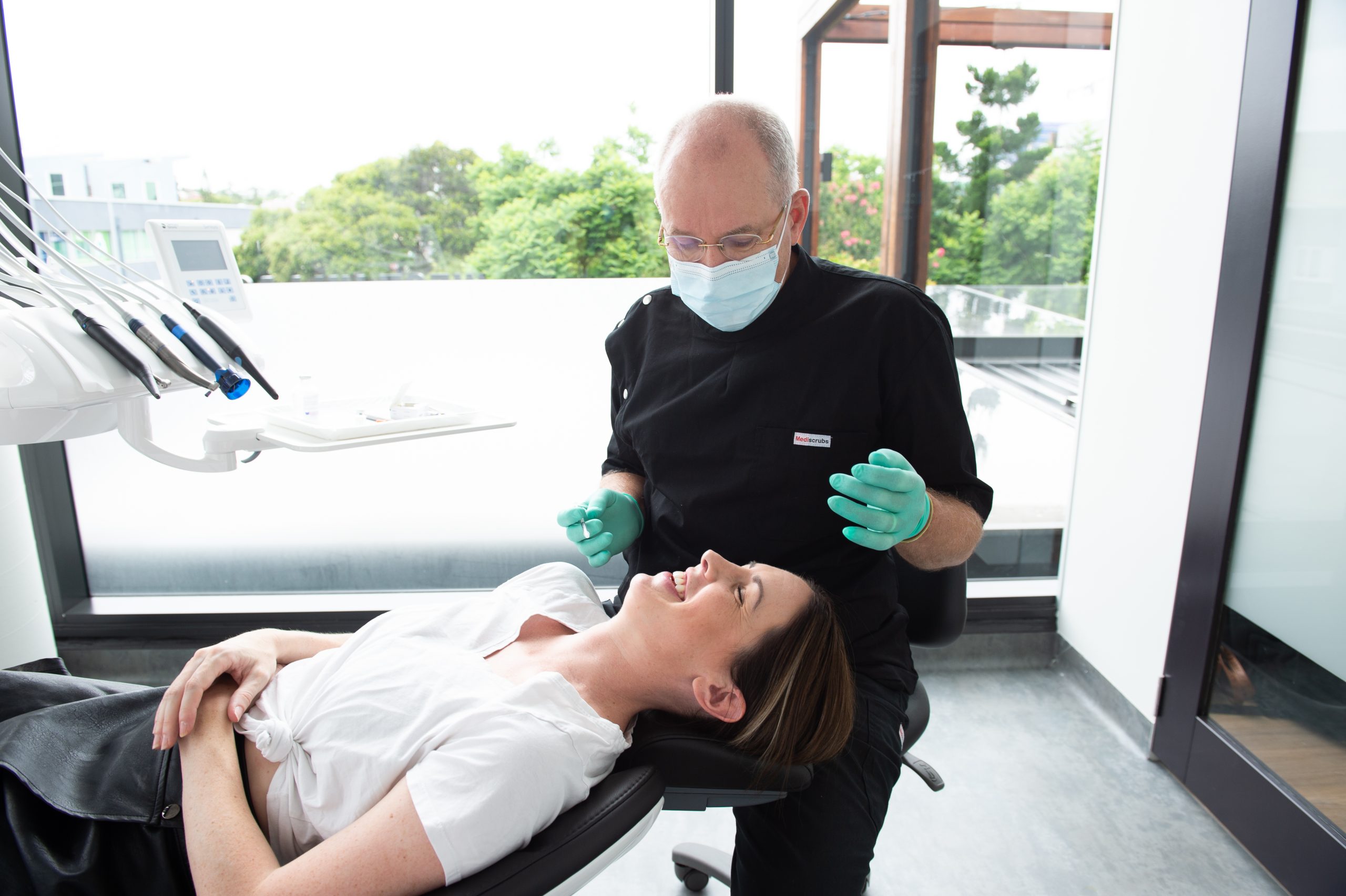 Dental crown procedure
At The Practice, we use the most advanced techniques to restore severely damaged teeth. Generally, the dental crown procedure takes two appointments. 
During the first appointment, the tooth is prepared. This includes removing any decay and old broken fillings. Your dentist will take a 3D scan of the tooth, to create the crown and ensure it will fit perfectly over the tooth. This is perfect for patients who choke on traditional impression techniques. A temporary crown will be placed over the tooth. 
The hard work is done, so in the second appointment, our dentist will remove the temporary crown and the permanent crown will be put in place. You will be given specific instructions on how to care for your dental crown after the procedure or you can find information on our patient care page.
Are dental crowns painful? 
You may experience some discomfort, however, it's not painful. During the procedure your dentist will numb the affected tooth and the surrounding area with local anaesthetic to ensure you don't feel any pain. 
How to care for your dental crown
You must  care for your dental crown to ensure it lasts longer. You should continue brushing your teeth twice a day, floss daily, avoid chewing hard foods like ice or hard sweets, and visit your dentist every six months for regular check-ups and cleans. 
Dental crowns at The Practice South Brisbane
Our dentists have many years of experience with dental crowns and use the latest technology and innovative equipment to ensure the procedure is as comfortable as possible. We take pride in providing the best care to help you achieve the smile you've always wanted. 
Dental crowns can improve the appearance of your smile, restore the function of damaged or decayed teeth, strengthen cracked teeth and prevent any further dental work in the future.  
The team at The Practice West End are here to help. Book your next appointment online or call 07 3733 3223 today. 
This error message is only visible to WordPress admins
Error: Connected account for the user thepracticemoderndentistry does not have permission to use this feed type.
This error message is only visible to WordPress admins
Error: Connected account for the user thepracticemoderndentistry does not have permission to use this feed type.