Excellence in dental care: The Practice – West End dentist
The Practice is a well-known dental clinic located in West Village Shopping Precinct. Our comfortable practice prioritises comfort and offers patients a comprehensive range of dental services as well as dentofacial aesthetics and orthodontics. 
Our West End dental practice 
The Practice is located in a convenient location in West Village Shopping Precinct, directly above Picnic Cafe. You can enter our West End dental clinic by taking the escalators up from the car park. Our entrance is directly opposite Kurtosh, which is between Yamas Greek and Dining and Italian Street Kitchen. 
We're conveniently situated within the vibrant West Village community, perfectly complementing the area's reputation as one of South Brisbane's top foodie spots and a go-to shopping destination in the heart of West End. Two hours of free parking is available and there is lift access, making it easier to access our clinic. 
Within our state-of-the-art practice, we go above and beyond to make our patients feel comfortable and relaxed before, during and after treatment. Inside our clinic, you'll find our welcoming Practice Manager Tegan, who welcomes every patient with a smile and makes you feel instantly at ease. You'll also find a refresh station with tea, coffee and water and a kid's play area. 
Innovative dental equipment and techniques
Our team embraces technology and modern dentistry, with the latest equipment and techniques that enable us to provide exceptional care and a comfortable and pain-free experience. 
Our practice offers: 
In house radiology OPG Lat Ceph and 3D scanning CBCT.

Intraoral scanner avoiding uncomfortable impressions and mounds.

State-of-the-art sterilisation room and facilities.

3D smile design.

3D orthodontic aligner plans.

ADA accreditation.

Surgical and implant facilities.

Root canal treatments with 3D scanning assistance. 

Facial aesthetics – filler, muscle relaxants, fat dissolving, threading (non-surgical facelifts).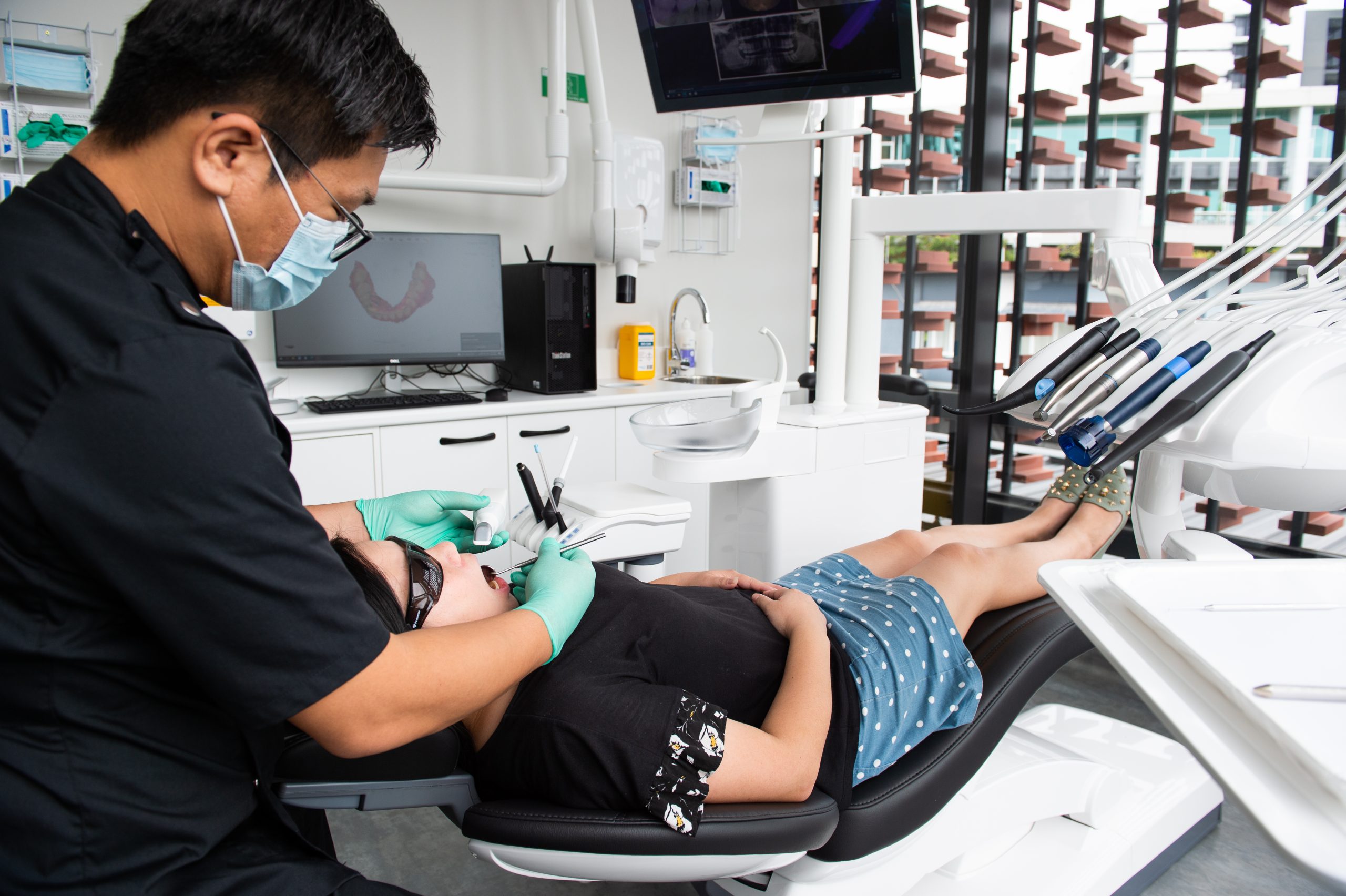 Our services
We offer a comprehensive range of services at The Practice, from routine check-ups to advanced cosmetic procedures and dent-facial aesthetics. We provide orthodontic care (fixed braces and aligners), specialised children's dentistry, dental implants, mouthguards and myobrace. 
We also have our therapy dog, Dr. Fergus, who helps to put young patients at ease during their visits to The Practice. He's been through hours of training and provides lots of cuddles to make children feel comfortable when they feel apprehensive in the dentist's chair. 
Our dentists
At The Practice, we offer the highest level of dental care and our experienced dentists, dental assistants and reception staff are the foundation of our dental clinic. At every step of the patient journey, we prioritise a patient-centric approach and offer a range of expertise in a variety of services. 
We accept all health funds and since we're not affiliated with any particular health fund, our treatment plans are not influenced by them. Instead, we create personalised plans to cater to the unique needs of each patient. 
Our Principal Dentists Dr. Andrew Molloy, Dr. Glen McKeough, Dr. Jodi McKeough and Dr. Tony Hsu have years of experience and offer valuable expertise in all aspects of dentistry. 
Dr. Andrew Molloy: 
With a strong emphasis on preventative dentistry, Principal Dentist Dr. Molloy has undertaken extensive training in orthodontics, implant dentistry, crown and bridgework and cosmetic dentistry. He's a big believer in holistic dental care, understanding that dentistry should compliment a patient's entire face, not just their teeth. 
Dr. Glen McKeough: 
Dr. Glen McKeough has years of experience in dentistry and has furthered his education in orthodontics, oral surgery and cosmetic dentistry. As a principal dentist, he brings with him a vast amount of knowledge in various areas of dental care. 
Dr. Jodi McKeough
With 18 years of experience in the dental field, Dr McKeough began her career as a reception and dental assistant, then completed a bachelor in oral health sciences. As a principal dentist at The Practice, she has further training in orthodontics, paediatric and restorative dentistry. 
Dr. Tony Hsu
After graduating from Griffith University with a Bachelor of Oral Health in Dental Science and a Graduate Diploma in Dentistry, Dr. Hsu has obtained multiple awards for academic excellence. Dr. Hsu provides advanced care for crown and bridge work, cosmetic dentistry, orthodontics and implant dentistry. He also provides orofacial myofunctional therapy and has completed two years of progressive orthodontic training (fixed braces). 
Dental care at The Practice dental, South Brisbane
We are the go-to dentists in West End, South Brisbane. Our dedication to patient care and comfortable, modern clinic ensures our practice stands out from the rest and offers patients unbeatable dental care in South East Queensland. 
We invite you to schedule an appointment with our wonderful dental team. Book an appointment at our South Brisbane dental practice online or call 07 3733 3223.
This error message is only visible to WordPress admins
Error: Connected account for the user thepracticemoderndentistry does not have permission to use this feed type.
This error message is only visible to WordPress admins
Error: Connected account for the user thepracticemoderndentistry does not have permission to use this feed type.