Bright beginnings; A parent's guide to children's dentistry
As a parent, the health of your children is your number one priority. Oral health is one crucial aspect of looking after your children's health, and one that should never be overlooked. Healthy smiles lead to happy, thriving kids and establishing strong oral hygiene practices during childhood lays the foundation for a lifetime of excellent oral health.
At The Practice, we understand navigating the world of children's dentistry can be overwhelming, but rest assured, we've created this comprehensive guide to help you understand everything you need to know. 
What age should a child first visit the dentist? 
At The Practice, we recommend your child's first visit to the dentist is around 12 months of age, or within 6 months of getting their first tooth. This will help introduce your little one to the dentist and we'll carry out an examination and make sure everything is as it should be. 
How often should my child go to the dentist? 
Regular dental check-ups are essential for maintaining good oral health. Our South Brisbane dentists recommend check-ups every 6 months, which will ensure we can identify any issues early before more serious problems occur. 
Benefits of taking children to the dentist
Monitor growth and development: Regular dental check-ups can help us monitor the growth and development of your child's teeth and jaw, ensuring any issues are identified early.

Oral health education: By visiting the dentist your child will learn how to take care of their teeth and gums as well as other contributing factors such as a balanced diet. 

Prevent tooth decay: Professional teeth cleaning and preventative treatments like fissure sealants and fluoride treatment can help prevent tooth decay and reduce the risk of cavities. 

Create healthy oral hygiene habits: When you regularly take your children to the dentist, you are helping to build positive oral hygiene habits such as frequent brushing and flossing. 

Early detection: When our dentists are regularly checking your children's teeth, it's easier to identify problems such as cavities, misaligned teeth, or bite issues.

Familiarisation:

Familiarity with the dental clinic environment at an early age can reduce dental anxiety and fear, making future visits more comfortable.

Long-term savings: By addressing dental issues early, your family may avoid extensive dental treatments in the future. 
How to minimise dental anxiety
Many people feel anxious visiting the dentist, but as a parent, you can establish a positive relationship between your child and the dentist. Some tips for helping your child feel at ease include: 
Tell them what to expect before their appointment. 

Encourage your child to stay calm and stay calm yourself.

Never use the dentist as a threat. 

Make the visit a fun experience by using positive reinforcement. 
Read this blog article: 5 simple ways to relax at the dentist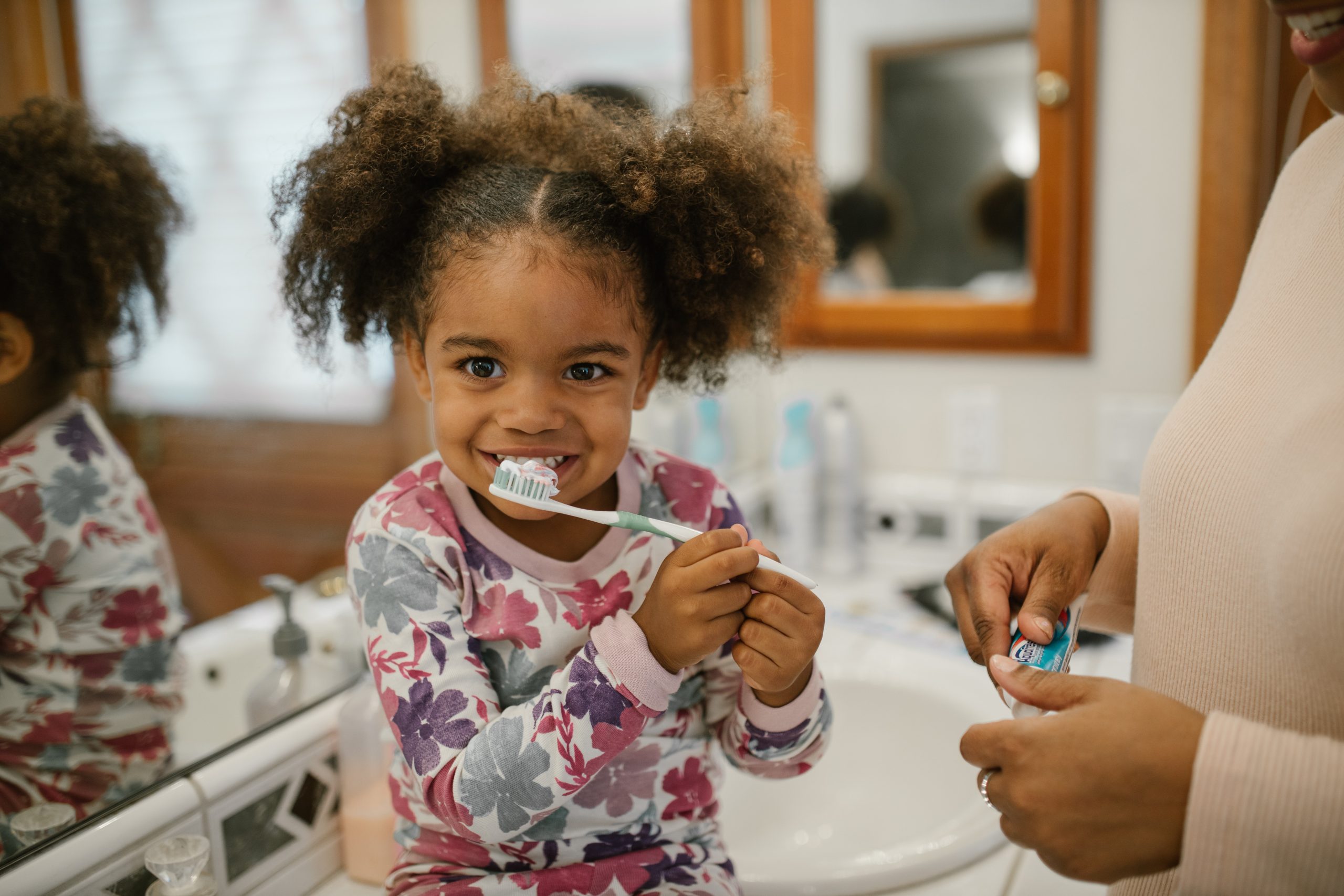 Tips for looking after your child's teeth:
Brush your child's teeth twice daily, for a minimum of two minutes. You can help your child to brush their teeth until they are about 8 years old, then supervise them until they are a teenager. Create a regular brushing schedule, brushing morning and night. 

Replace your child's toothbrush once every 3 months or when you see signs of wear. 

Flossing can start once your child has two teeth that touch and should be supervised. 

Encourage your child to avoid sugary foods and drinks.

Order a custom-designed mouthguard if your child is playing contact sports. 
Dental treatments for children at The Practice
At The Practice, we offer specialised children's dentistry. We believe in open communication. We ensure we explain exactly what is happening and even show off some of our dental instruments and products so your child knows exactly what they do. This helps us to build trust and allows them to feel comfortable and build good oral hygiene habits.
We offer a variety of general dental services, as well as Myobrace, fissure sealants and custom-designed mouthguards. 
To book an appointment, or to ask a question, contact our friendly team online or call 07 3733 3223 for more information. 
This error message is only visible to WordPress admins
Error: Connected account for the user thepracticemoderndentistry does not have permission to use this feed type.
This error message is only visible to WordPress admins
Error: Connected account for the user thepracticemoderndentistry does not have permission to use this feed type.