What is the right age for braces?
At The Practice we pride ourselves on our ability to provide dental treatment for the whole family, from children to the elderly. We offer a range of different treatments, from basic fillings and check-ups, to cosmetic dentistry and orthodontics. 
Two of the most common treatment options we offer are traditional fixed braces and Invisalign, both designed to straighten teeth. First, let's look at the differences between braces and Invisalign. 
Fixed braces: 
Braces are devices to straighten crooked or misaligned teeth. They are metal brackets and wires that work to change the position of teeth. Elastics are also used to help align teeth. 
Braces work effectively to close gaps and align teeth, however they are more noticeable than Invisalign. While wearing braces you cannot eat or drink certain foods and brushing and flossing requires careful management. 
Braces will need to be worn for approximately 18 and 36 months, depending on the individual. 
Invisalign are clear (hardly noticeable), custom made aligning trays that work to move teeth. They are changed weekly and can be removed before eating or playing sports. For this reason a lot of people find them more convenient and more comfortable than fixed braces. 
How long you need to wear Invisalign clear aligners will depend on the individual and could be anywhere between 6 to 12 months, or longer. 
Why would you need braces or Invisalign
There are few different reasons an individual might require braces or Invisalign. It could be to straighten crooked or crowded teeth, to correct an overbite or underbite or to correct jaw position. 
REASONS FOR BRACES OR INVISALIGN
Overbite.

Underbite.

Crowding.

Crooked teeth.

Gaps.

Incorrect jaw position.

Crossbite.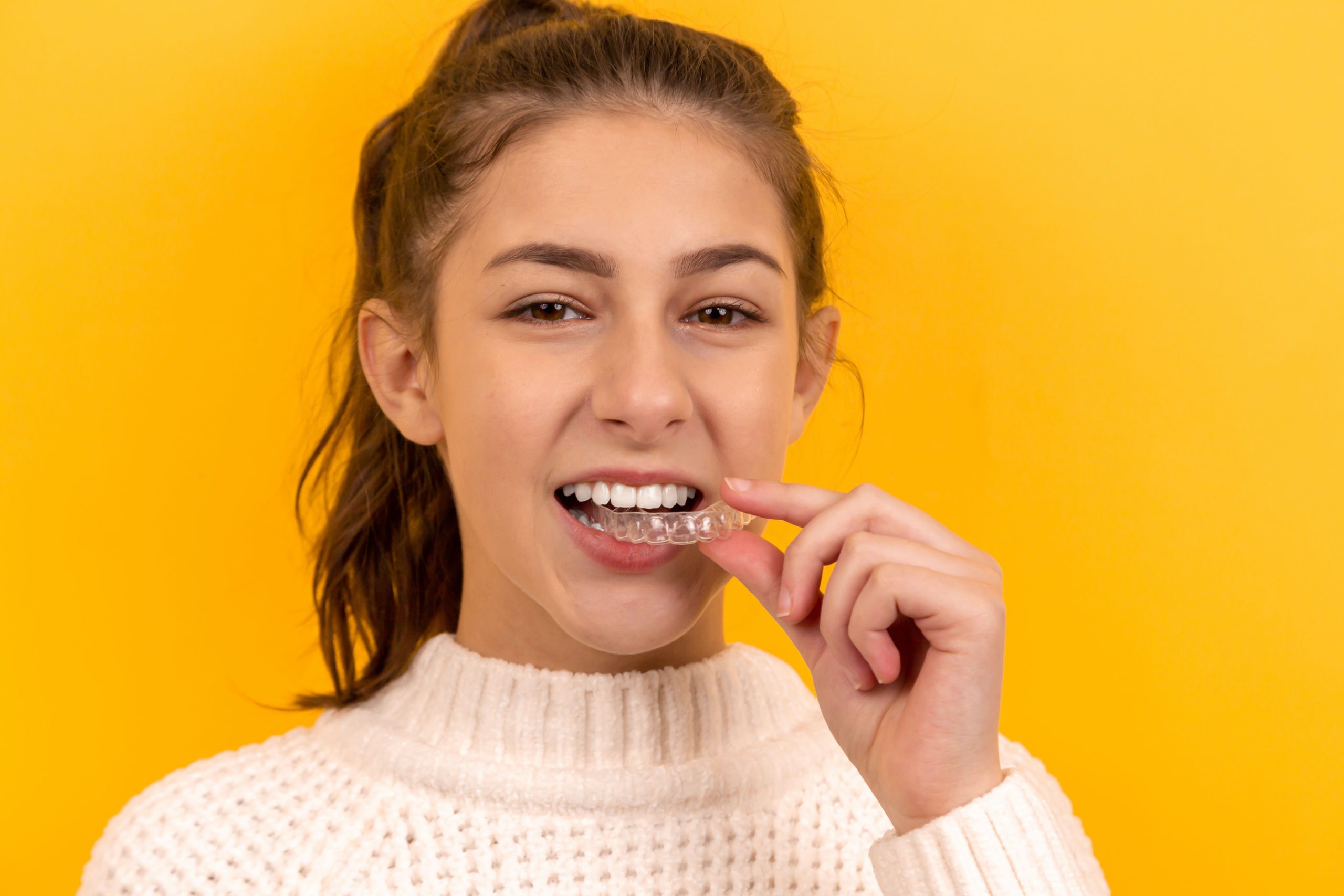 What's the right age for braces and Invisalign for children
If you are a parent you may be wondering what age your child can get braces. The right age for children to get braces or Invisalign is decided by a dentist on a case-by-case basis, ensuring they are ready both physically and emotionally. 
Factors determining whether your child is ready for braces or Invisalign include malocclusion, eruption patterns and emotional readiness. Some patients will benefit from earlier intervention, while others will benefit from later treatment. If children aren't ready for managing Invisalign treatment and removing their aligners regularly, fixed braces are a great option. 
At The Practice our goal is to ensure you reach your desired outcome in the shortest amount of time and we'll do everything we can to give you the best service possible.
Traditional braces and Invisalign for adults
Braces and Invisalign aren't just for children, adults can also reap great benefits from both treatment options and more adults are choosing to straighten their teeth later on in life. 
They give a great confidence boost, you'll feel happier with your smile and it makes it easier to clean your teeth and improve your gum health. Braces have come a long way in the past decade and Invisalign are hardly noticeable, making them more comfortable to wear and reducing the impact they have on your lifestyle. 
Are you a candidate for braces or Invisalign? 
The best way to find out if you, or your child is a candidate for traditional braces or Invisalign is to book a consultation with one of our experienced dentists at The Practice. We'll discuss any issues and do a thorough examination to recommend the best treatment possible. 
Book an appointment online at our West End dental clinic, or contact our friendly team on (07) 3733 3223. Alternatively, email admin@thepracticedental.com.au
This error message is only visible to WordPress admins
Error: Connected account for the user thepracticemoderndentistry does not have permission to use this feed type.
This error message is only visible to WordPress admins
Error: Connected account for the user thepracticemoderndentistry does not have permission to use this feed type.